Tree Trimming and Tree Removal Across Tampa Bay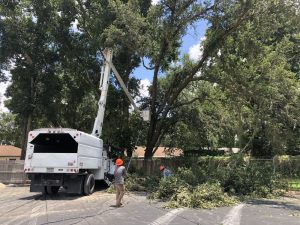 Cross Creek Landscaping is pleased to offer our customers top-rated tree trimming and tree removal services throughout the Tampa Bay area. Our experts have the skill and experience to get any job done and will take care to remove your unwanted limbs and trees safely.
Tree Trimming
We can help you keep your existing trees free of disease and growing beautifully by regularly trimming sick or dead limbs. Regular trimming can also help your trees to develop and maintain a stunning shape and allow you a better view of your property.
Tree Removal
Whether you want to clear the way for a patio or deck or simply want to avoid falling trees next hurricane season, our team has the tools and equipment needed to make your residential or commercial property exactly how you'd like it to be. With a focus on safety, we can make room for your next addition or help you avoid damages in extreme wind.
Learn More About Our Tree Trimming and Tree Removal Services or Request Your FREE Estimate Today!
For more information or to request a free estimate, contact us now to speak to a friendly and knowledgeable team member. We look forward to serving you!